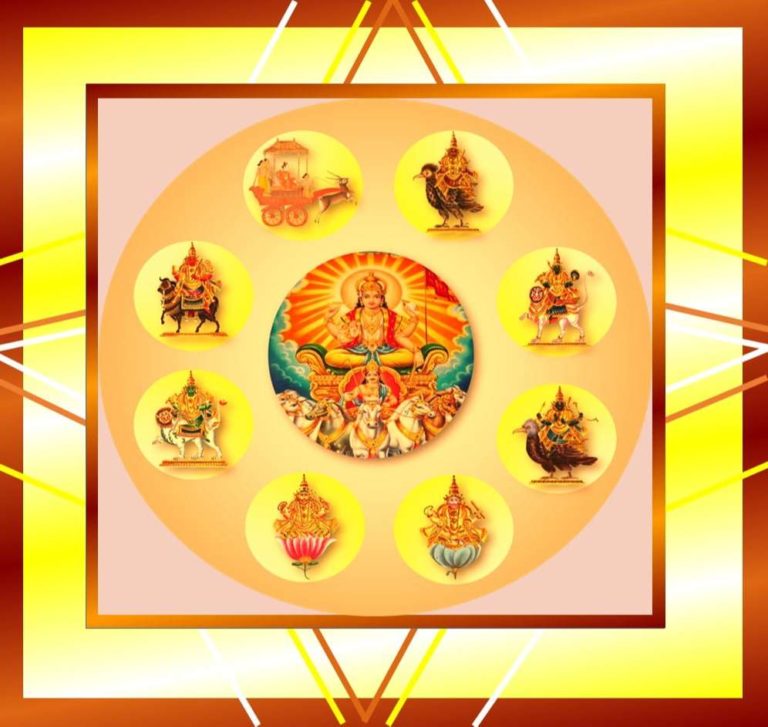 Navgrah Shanti Puja | Live Online Puja |
Navgrah Shanti Puja Online at Live Online Puja

The term Navgrah means nine planets which rule our day to day lives. 

Puja for  Sun (Surya), Moon (Chandra), Mars (Mangal), Mercury (Budh), Jupiter (Brihaspati), Venus (Shukra), Saturn (Shani), Rahu, and Ketu.

Blessings of Navgrah can provide better health, wisdom, success, wealth, fame and prosperity in life

The Puja provides a strong protection against all misfortunes and brings good luck.

Watch the Puja LIVE from comfort of your home.

Personalized Puja according to your needs

Performed by learned Pandits based on Vedic Principles
* Canadians can also Book Puja and pay using e-transfer at booking@liveonlinepuja.com
The planets in our Kundali influence every action we take. They affect our each success and failure, as well as the challenges around us. If you are unhappy with any aspect of your life, it could be a result of a malefic planet. You and your family can lead a happy and fulfilling life with the blessings of Navgrahas.
Navgrahas are the nine planets that rule our day to day lives. These include Sun (Surya), Moon (Chandra), Mars (Mangal), Mercury (Budh), Jupiter (Brihaspati), Venus (Shukra), Saturn (Shani), Rahu, and Ketu. Navgrah Shanti Puja, when performed with the correct vedic rituals, will fill your life with positivity while removing any negative effects of the malefic planets.
Significance of Navgrah Shanti Puja
Navgrah Shanti Puja involves worshipping all the planets that affect various portions of our life, thus providing an overall positive impact on our life. The Navgrah Shanti Puja Online is a must for your family, and substantially improves health, strength, wisdom, family peace, success, wealth, fame and prosperity in life. We can help you get the blessings of the ruling deities of Navgrah in your Kundali, by performing the Navgrah Shanti Puja, specifically for you and your loved ones. Navgrah Shanti Puja improves personal and professional life of the native. It brings prosperity, health, wisdom, success, wealth, and fame in the life of native. Navgrah Puja forms a protective shield around native that protects them from misfortune and brings good luck.
The Puja will be completed by Pandits, while following all the Vedic principles. Our highly experienced Pandits (Acharayas) will perform a live puja. You will also become a part of the puja online. You will be able to see a live puja, performed specifically for you. The Navgrah Shanti Puja Online will include your photo, your name, as well as your birth details, and would be tailored specifically for you. The Team of Live Online Puja includes learned and well experienced Pandits who have expertise of years. Navgrah Shanti Puja is according to the guidelines prescribed by our ancient sages and the Vedic literature using authentic materials (Samagri) and by chanting Vedic mantras. The team of Live Online Puja ensures that your Navgrah Shanti Puja is performed by learned Indian Pandits, with the help of a click and in the comfort of your home. Bring this auspiciousness and good luck into your life right now, for a better tomorrow.
* Canadians can also Book Puja and pay using e-transfer at booking@liveonlinepuja.com